The Edit: Parasite, Sex Education, Swimming In The Dark
This week: A Korean movie sensation, the Netflix show you might have missed, some top new pop tunes and a book I really loved.
Hello Editers! (that's a thing I'm trying to make happen)
It's Friday again and I'm here with the email that hopes you "have a great weekend" and actually means it.
Big news in the UK this morning on This Morning when veteran TV presenter Philip Schofield came out as gay live on air in an interview with his co-host Holly Willoughby. It felt like it actually brought the country to a standstill briefly.
As a pop culture observer the announcement was a masterclass in the art of the reveal. Handling a sensitive and emotional subject with class and efficiency, ensuring only Phil got to own his moment.
In this week's issue the sensational Korean movie which could win that big prize at the Oscars on Sunday night, a Netflix show you might have dismissed in error, some top pop tunes and a book I really loved and hope you will too.
I've also included a new Radar section which is just a list of things I plan to check out in the coming weeks based on hearing good things - a chance for you to beat me to it and let me know what you think.
Have a great weekend Editers! (ok, I'll stop)
Rob x
---
🍿 Parasite
Bong Joon'-ho's Parasite is one of the most-talked about films of 2020's awards season. It tells the story of an unemployed family who target a wealthy household in order to transform their lives. A simple premise, which unfolds into a story unlike anything I have ever seen on screen before. Its unique blend of comedy, drama, horror and social satire is brought together seamlessly through some truly excellent writing.
No need to delve deeper into the plot here as I think the less you know, the more enjoyable the film will be. Make seeing Parasite your top priority this weekend and you may well end up being the smug person in your office who has seen the Best Picture Oscar winner come Monday morning.
In UK cinemas now | Book tickets
📺 Sex Education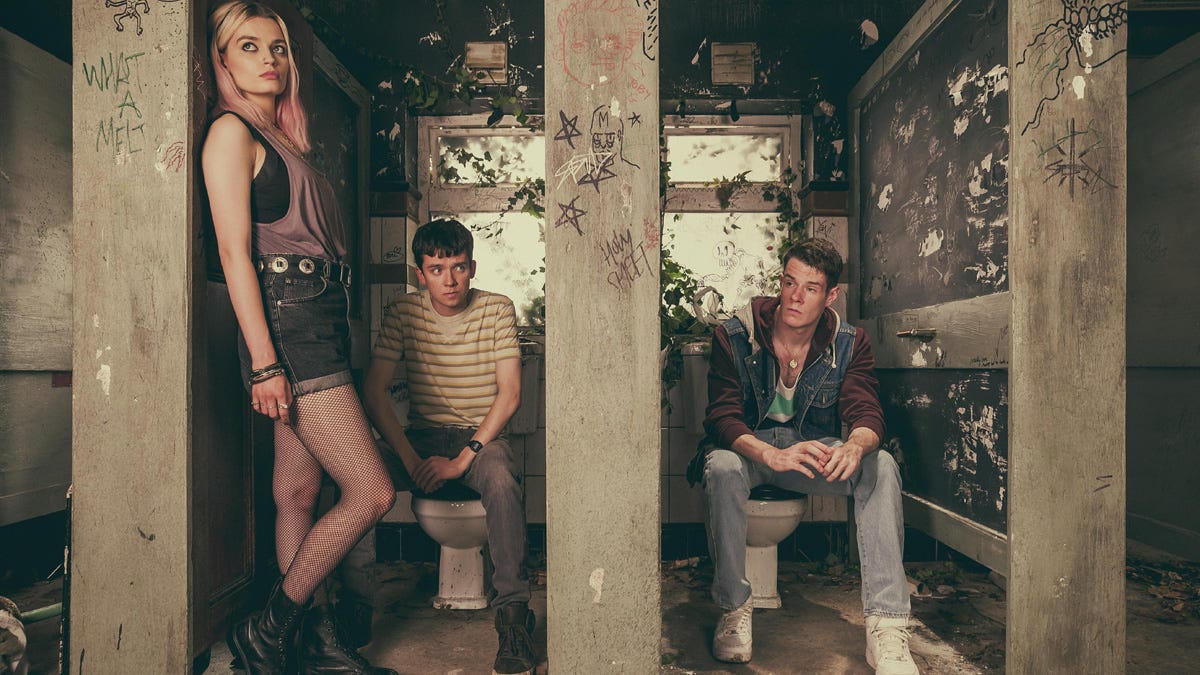 I'm a huge fan of this Netflix show but several people I've spoken to haven't watched it because they thought it was exclusively for teenagers. That's absolutely not the case.
Sex Education has some very adult storylines indeed. It's fair to say there is something for us all to learn from it I think. If that's not the case for you then you are almost certainly too busy to be reading an email [WINKY FACE EMOJI, AUBERGINE, PEACH, SPLASH].
Gillian Anderson is legendary as sex therapist Dr Jean Milburn and newcomer Ncuti Gatwa makes me beam every time he comes on screen as Eric. The storylines aren't all just teen sex related, the show also gets into some of the adult characters personal issues and looks carefully at the impact of parents on their children. Go on treat yourself.
Out now | Netflix
'Swimming In The Dark' by Tomasz Jedrowski
Swimming In The Dark tells the story of Ludwik Glowacki, a young man falling in love and coming to terms with his sexuality against the backdrop of 1980s soviet era Poland. He meets Janusz at an agricultural camp and the pair enjoy an idyllic summer romance before having to face the harsh realities of life back in Warsaw.

The contrast between Ludwik and Janusz's seemingly carefree existence at the beginning of the story and the pressures they subsequently face back in the city serves to truly emphasise the powerful and destructive nature of the soviet regime.

It is ultimately heartbreaking to read how the toxic political situation seeps into the cracks between Ludwik and Janusz, changing their behaviour and driving them apart.

Swimming In The Dark is a story that will stay with me and has also led me to learn more about the era and its impact on LGBT people. Highly recommended.
Bloomsbury, Hardback | Out now
🎶 Radio Edit
Here are a few songs worth adding to your weekend rotation:
Dua Lipa - Physical: Her best song since New Rules, reinvents 80s synth pop for the new decade.
The Pussycat Dolls - React: The year's biggest pop reunion. Listen out of interest if nothing else. Nicole's mic set to max volume on this one.
Dagny - Come Over: Bouncy, breezy euro pop from Norway's finest.
Niall Horan - No Judgement: I always just imagine he's singing to me. No judgement.
Carly Rae Jepsen - Let's Be Friends: Jeppo gets particularly Swifty on this sassy little breakup song.
Radar
Are these the next big things?
The Stranger | The trailer for this Netflix family mystery drama looks very promising.
The Gravity of Us by Phil Stamper | Space-related gay YA fiction. Yes please!
The Pale Horse | Sunday nights were made for Agatha Christie adaptations.
Uncut Gems | I'm going to have to watch an Adam Sandler movie aren't I.
Ryan Beatty | I keep seeing his name but I'm yet to properly listen to his music.
---
Still here? Thanks for reading! If you could take a moment to hit reply and let me know where you are from (city/country) that would be really useful in helping me decide what makes it into the email.